Arizona Haboob
I had never heard the word haboob until I moved to Arizona and experienced one first-hand in July of 2014, although here in Arizona they are more commonly referred to as dust storms or sandstorms.
What Causes a Haboob?
As a thunderstorm is forming and high winds are moving, the winds move in several directions opposite of the pending storms course of travel and directly into the thunderstorm picking up sand, silt and dust along the way. When the thunderstorm breaks down and begins to emit precipitation, the winds reverse and fall into the same travel direction as the thunderstorm. This combination of a thunderstorm moving at high speed and the winds moving in the same direction carrying dust and sand creates a wall of fast-moving dust.
How Fast Do Haboobs Travel?
I was sitting on my back deck when I saw this wall of dust approaching, it appeared to be far away. I wasn't alarmed…at first. Then I realized how fast it was traveling so I took this picture but I was in a hurry to get into the house, immediately! A haboob can travel anywhere from 35 to 100 mph.
What Happens When It Rains?
I'm told that if it rains during a haboob the rain is filled with dust and a heavy rain is called a 'mud storm'. The thunderstorm never materialized but the haboob lasted for about 30 minutes.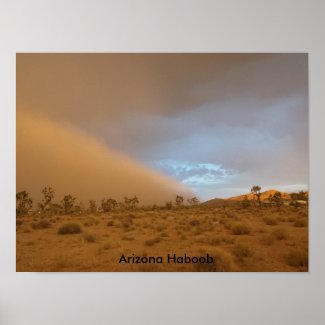 Arizona Haboob Poster
by
cdorsey47
View custom art
Posters
& Prints at online Zazzle
Share with your friends
To report this post you need to
login
first.