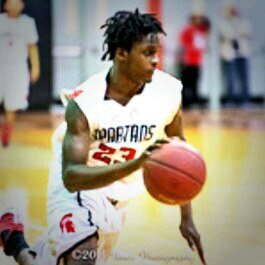 Raquan Mitchell is a basketball player, football player, and he runs track for Miami Southridge Senior High School. His first love is basketball but he's proven to be an all around athlete. When dribbling the ball is over, Raquan handles the football field, he plays his Cornerback position quite well. Raquan will be graduating this year. This student athlete has faced many challenges. Both his mother and father aren't apart of his life. Although Raquan faces challenges, he continues to make strides, he's not defeated.
Raquan Mitchell has certainly transformed himself. He went from being a student at an Alternative school, to being a solid student at Miami Southridge Senior High, "very impressive." His challenges hasn't detoured his focus, drive, and determination. Raquan wears #23 on the basketball court and #28 on the football field. Raquan embraces his number one craft and that's basketball. He's agile, he's fierce, and he's quick. There's no denying that this student athlete has skills. He's unstoppable. (Rip the Rim 2014) said, "Raquan Mitchell Reminds Us of a Young Wallace."
Raquan played football along side my son Corey Paulk and it's been a positive experience. Although football isn't his first love. One wouldn't be able to tell because he's just as effective on the football field as he is on the basketball court. Look out! This student athlete deserves to have a position at a top notch school. His skills, determination, and drive allows Raquan Mitchell to fit the bill as a "Remarkable Person."
"There's no stopping me. I'm going places." (T. Paulk, 2015).
Raquan Mitchell, you have officially been chosen as a "Remarkable Person." Continue to make strides. Never give up. You have what it takes. Keep following your dreams.
http://www.hudl.com/athlete/4444722/raquan-mitchell Raquan Mitchell's football highlights.
Source:
Corey Paulk (2015)
Hudl (2015)
Photos credit: Advanced Google Images/ Free to Use & Share even Commercially
Rip the Rim (2014)
Author's notes: This article is apart of the Remarkable Person Project. "There's no stopping me. I'm going places." Quote belongs to Tanikka Paulk (Tiki33). "No matter what one has to say, you have every right to follow your drams, don't stop."
Share with your friends
To report this post you need to
login
first.