This Daily Two Cents post is a quickie overview of extant religions, with an emphasis on the Bahá'í Faith that began in the 19th century.
Extant means: still in existence, i. e. not lost in the course of time. Yes there is a television series that has that name which stars the well-known actress Halle Berry. But this two cents is not about that "Extant" (1). Sorry to disappoint you but having watched just one episode, the scy-fy show failed to capture my interest; and the preview of the next episode did not excite me either. Therefore, the legion of devoted viewers of this series and loyal fans who will be tuning in each week will have to support Ms. Berry without me. 🙂
This post is a quick recap of extant religions, with an emphasis on the last faith that began in the 19th century. Major #extant #religions emerged in the following order: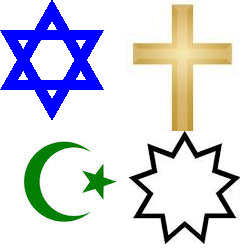 * 3rd millennium B.C.: Hinduism (India) and Shintoism (Japan);
* 13th century B.C.: #Judaism (Palestine);
* 7th century B.C.: Zoroastrianism (Persia);
* 6th century B.C.: Taoism and Confucianism (China); Jainism and Buddhism (India, with roots in Hinduism);
* 1st century A.D.: #Christianity (Jerusalem, with roots in Judaism);
* 7th century A.D.: #Islam (Arabia, with roots in Judaism);
* 16th century A.D.: Sikhism (India, with roots in Hinduism);
* 19th century A.D.: Baha'ism (Persia, with roots in Islam).
Baha'ism is monotheistic and disciples of the Bahai faith believe that the doctrines of Islam, Judaism and Christianity can be reconciled. This movement has never been accepted by Muslims, Jews, or Christians, nevertheless the community boasts an estimated 5 million converts, and there are temples and shrines in India, the United States, the Middle East and other parts of the world. The YouTube video is a documentary about three Bahai believers.
Have You Ever Heard of the Bahá'í Faith?
It's the weirdest thing. Took a course on world religions in high school many years ago. (Graduated HS in 1972.) Refreshing my memory, all the religions in the list above were familiar, but really don't remember being taught anything about Bahai'ism.
You may ask: "Is it possible it just slipped my mind?"
Hmmm? Let me think. A new spiritual teaching with a new prophet or Godly messenger who claimed to have a Divine revelation that replaced the doctrines of all the other prophets before him, including Jesus Christ? Not likely.
Don't know if my teacher intentionally omitted it or if there wasn't enough time to cover the material in class or it was mentioned briefly but we were assured it would not be a test question or whatever. At any rate, it's not unknown to me now. (If video does not load, click here.)

Image credit: Nine Pointed Star: Symbol of Bahaism and other religious symbols in Public Domain
(1) ** Extant – Full Episodes , Pictures, Cast and Photos- CBS.com – http://www.cbs.com/shows/extant/


♦ ♦ ♦ ♦ ♦ ♦
More by Cmoneyspinner
Celebrating Memorial Day in the USA
Understanding Islamic Sects by Sheri Oz

15 Reasons to Write on Daily Two Cents
– Sign up today!
Share with your friends
To report this post you need to
login
first.
About The Author
Treathyl Fox aka Cmoneyspinner – Home business entrepreneur since 2007, based in Austin, Texas USA. Self-employed and loving it! * VISIT MY BLOGS: My Blog Stop! and My Pain, Your Gain
We use cookies to ensure that we give you the best experience on our website. If you continue to use this site we will assume that you are happy with it.
Ok