How to Choose the Best Running Shoes
The first thing to do if you are thinking of taking up running is to get yourself a suitable pair of running shoes. This doesn't mean that you have to spend a fortune, but does mean that you need to find a quality pair that will be hard-wearing and good for the health of both your feet and your joints – it's no good taking up running to get fitter and find yourself running yourself into the ground because your running shoes are no better than flip flops!
Of course, what a runner needs or looks for in a shoe varies, so here's a quick look at what some of the fore-runners on the market can offer you:
New Balance
Popular in Europe as well as Stateside, New Balance is possibly one of the best known manufacturers of running shoes. From early days of selling arch supports to police officers and waiters, New Balance prides itself on offering footwear that not only meets the needs of athletes, but also maximizes performance. Styled, comfortable footwear that offers optimum performance and endurance, but also looks stylish is all possible with New Balance running shoes.
Asics
One of the best known and most purchased manufacturers; Asics pride themselves on providing quality sportswear across a range of sporting interests. Long before you even hit the sports shops to buy your equipment; do check out their website for the wealth of information on what you need to look for in support from a shoe that matches your own style of running. Asics are then able to provide their own styles with targeted support to suit your needs, or you can use their extensive information and advice to extend your search elsewhere.
Brooks
Hot on the heels of Asics comes Brooks. This company originated in the USA but has fast become the provider of Europe's most sought-after running shoes. Brooks prides itself on its innovation in materials and technologies, in order to continually fulfill and improve quality to meet all of the exacting demands of today's runner, such as lightweight, moisture resistant fabrics and biodegradable materials, as well as having more than one foot in the door to meeting the fashion and style requirements of the discerning runner.
Saucony
Saucony's emphasis is on the fact that as runners, they understand what runners need, so meeting those needs is what motivates them as manufacturers. Again, through their website they seek to help the novice runner by providing an on-line shoe advisory service, as well as a helpful glossary of terms. This is well thought out, after all what's the point of paying out for a pair of running shoes that have EVA+, when you have no idea what this is, or if you need it?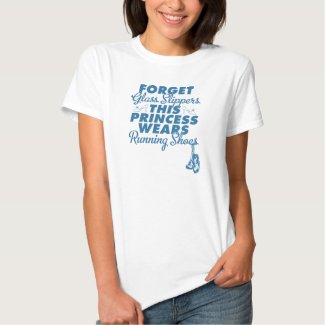 Forget Glass Slippers, Running Shoes Tees
by
SpurCollective
Create your own
custom made shirt
.
Running Shoes for Women
Any and all good running shoe manufacturers, including those above, provide a selection of shoes in each range that are specifically designed for women. All running shoes are meant to gently cradle the foot and given that women do differ from men even ladies with a larger sized foot, it's important that the shoe isn't just the right 'size' but meets the different physiological needs of women and so can offer the right support.
Lastly, male or female, it's obvious, but do try before you buy! Although there are many bargains to be had by purchasing your running shoes online, do not do this unless you have visited a retail outlet and actually tried on some shoes and taken advice to find the types and makes that will best suit your running needs!
Best Running Shoes for Women on Amazon
Share with your friends
To report this post you need to
login
first.