Scoop.It is a D.I.Y. Content Curation Tool
Scoop.it is a D.I.Y. content curation tool that helps you organize, publish and circulate content; including random content. Launched in 2011 and within a year and a half, 75 million users had signed up.
Scoop.it is a D.I.Y. content curation tool,which was developed to supplement or complement algorithms and help humans organize, publish and share content useful and meaningful to them. You choose a topic and then publish your own material and/or pull in relevant content you like and want to share from everywhere else.
SearchEngineWatch.com mentioned Scoop.it in an article dated May 20, 2014, contributed by Ken Lyons, Co-Founder of MeasuredSEM, and of Cornerstone Content, where he listed the "26 Free (or Free-to-Try) Content Curation Tools" and recommended this tool for expanding social reach and increasing traffic.
Today while searching for content to "scoop" for my topics (1), came across a topic being curated by Zymymar, who writes in their profile that he or she is an "atheist … genius". The topic this individual curates is called "Random for Sharing"(2) and is categorized under Culture. Decided to explore further because this page has been given a gold ribbon – that means people really like it! (Or even if they don't like it, they view it!).
The late Dino Martin (Dino, Desi and Billy, singing trio, 1960s), the son of the late American entertainer Dean Martin (aka Matt Helm, known for crooning that song "Everybody Loves Somebody Sometimes") – Dino used to say in a commercial: "If you got it, flaunt it!" So being curious as to why so many people would be interested in random content such that editors gave the topic a gold ribbon (i.e. so viewers would know it is "highly recommended"); and also because the person boldly declared they were atheist and really smart – had to take a peek at some of the scoops.
Expected to find several "sensational items" being circulated and was not the least bit disappointed to discover the alleged gates to hell!!
Clicking through from the scoop link to the original source (3), not only is the article fascinating reading but some of the comments could be embellished with a few more details and published as an another article!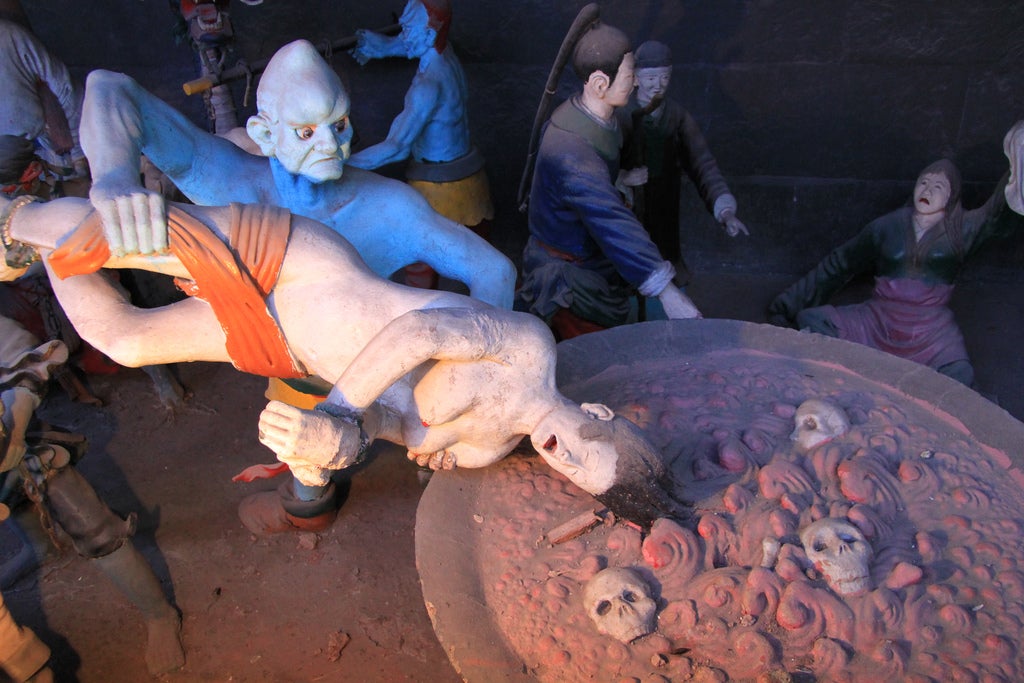 Ever thought about curating your own content? Many businesses and educators use Scoop.it; but for personal use, it can also be very interesting, informative and entertaining! There is a Free Plan or a Premium Package.

(1) Topics Curated by Treathy Fox: Work From Home; My I Like Eating Channel; and Society & Culture ~ http://www.scoop.it/u/treathyl-fox
(2) Curated by Zymymar ~ http://www.scoop.it/t/random-for-sharing
(3) REFERENCE: Davis, Lauren. "13 Places on Earth People Believed Were Entrances to Hell." Io9 "We Come from the Future." Kinja, 06 Oct. 2013. Web. 22 Aug. 2014. <http://io9.com/13-places-on-earth-thought-to-be-entrances-to-hell-1441628317>.
Photo of diorama from Fengdu by Matt Ryall. <https://www.flickr.com/photos/mjryall/3638770596/>


♦ ♦ ♦ ♦ ♦ ♦
More by Cmoneyspinner
Meet Jo Harrington, Renaissance Woman
Pinterest as a Psychological Profile
Reading, Writing and Publishing
Tumblr Blogs I Follow: Amanda on Writing

15 Reasons to Write on Daily Two Cents
– Sign up today!
Share with your friends
To report this post you need to
login
first.